An Accidental Turn novella set between The Untold Tale and The Forgotten Tale, Arrivals follows Kintyre Turn and Bevel Dom as they step into Forsyth's vacated life and face the surprising responsibilities he's left in his wake.

Author: J.M. Frey
Release Date: May 18, 2017
Electronic ISBN: 978-1942111481
Formats Available: ePub, Mobi, PDF
⤜PICK UP YOUR COPY TODAY⤛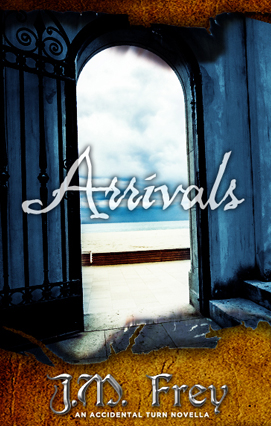 After seventeen years of adventuring, Bevel Dom and Kintyre Turn are finally returning home.
Forsyth Turn—brother to Bevel's long-time questing partner and newly Paired lover—has left both Hain and a hell of a lot of responsibility behind. He's bequeathed the Shadow's Mask and position of the king's spymaster to Bevel, and the seat of Lysse Chipping to Kintyre. It's a lot to take on, and it will mean an end to questing forever if they do.
But it might also mean a chance for Bevel and Kintyre to find a Happily Ever After of their own.
Unfortunately, Turn Hall seems to be infested with eligible young maidens out to snatch away the freshly returned Lord of Lysse, determined to destroy the fragile happiness that Bevel has built. Faced with more decisions than he was prepared for, Bevel battles with foes unfamiliar, making him wonder if life on the road really wasn't all that bad.
But if there's one thing Bevel Dom isn't afraid to do, it's fight for the man he loves.
An Accidental Turn novella set between The Untold Tale and The Forgotten Tale, Arrivals follows Kintyre Turn and Bevel Dom as they step into Forsyth's vacated life and face the surprising responsibilities he's left in his wake.
---
---
Praise for The Accidental Turn series:
"Being a part of a family, however unconventional, is an integral theme of Frey's clever, adventurous, and endearing second Turn novel (after The Untold Tale). […] As in the previous novel, the thought-provoking story discusses the stereotypical role of women in fantasy novels, but more focus is placed on the characters' struggles with their familial roles and relationships, creating depth and commonality."
—Publishers Weekly
"If I could mark this as 10/5 stars, I would, but that's impossible, so 5/5 it is, with much hearts and swoons. The Untold Tale is delicious, each word meant to be savoured, breathed in, nibbled at, full of hidden delight and wonder."
—Ana Tan, A Tsp blog
"This story is nothing short of fun, unexpected, and a little bit queer. If your interested in a Science Fiction/Fantasy undertaking with all of the ingredients of a queer anthology, The Untold Tale is for you."
— Dallas Barnes, Pink Play Magazine
"I started reading Untold Tale, and was captivated. This superb novel grabbed me from the opening sentence, and never let go. The very best fantasy stories show us fresh new settings in which deeds and events matter—but first and foremost, they give us colorful, captivating characters we fall in love with, or love to hate, or are fascinated by.
Untold Tale does all of this, and more. We see someone from a world we know plunged into a world that is strange to us, through the eyes of that unfamiliar world. And we care what happens to her, and to everyone we meet in Untold Tale's pages.
And the whole tale is several clever twists on the oh-so-familiar fantasies we've read before.
I want more. Books more"
—Ed Greenwood, Forgotten Realms
I think that J.M. Frey's The Untold Tale is the most important work of fantasy written in 2015. It may be the most important work of fantasy written this decade, but I'll have to get back to you on that in 2020.
—Mike Perschon, PhD
---
---
Author: J.M. Frey
Release Date: May 18, 2017
Electronic ISBN: 978-1942111481
Formats Available: ePub, Mobi, PDF